Hellooo!
Apologies for missing last week; I've been so busy.  Still had time to cook this lovely haggis cottage pie, though!
I know a lot of you feel queasy at the thought of haggis, and quite rightly so!  No amount of romantic tales, with a rogue little haggis scamping through the Highlands, can change what haggis actually consists of.  If you must know what it is, click here.  Otherwise, lets proceed in blissful ignorance…
This recipe came to me after realising I still had some leftover turnip in the freezer.  I seem to have taken a recent dislike to turnip, and I have no idea why, as I usually love it!  I'd made a batch of my Mum's amazing scotch broth the other week (frozen into tubs for some comforting work lunches), and found myself removing the turnip chunks! 
I knew, however, it would still be wonderful mixed in with some fluffy mashed potato (what isn't?), so I had the neeps and tatties part solved.  I was in the mood for making a cottage pie, and having a particularly Scottish moment.  I wondered what it would be like to mix haggis through the mince.
 So here's what I did: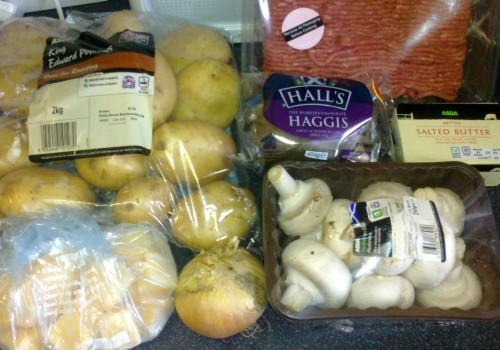 Ingredients (Serves 4)
500g beef mince
1 x haggis (454g)
1kg potatoes
700g turnip
250g mushrooms, diced
1 onion, diced
Butter for the mash (I used about 50g)
3 Oxo cubes
200ml boiled water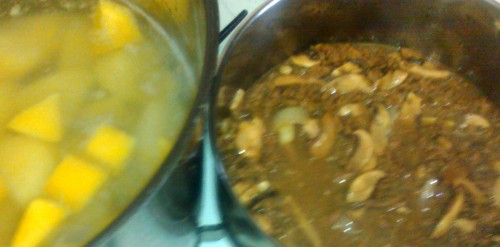 Whilst the turnip and totties were boiling, I browned my mince then added my onion.  The mushrooms went in after 5 minutes.
Next, I crumbled in my Oxo cubes, then topped up with 200ml boiled water.  I gave it all a good stir, then simmered for 30 minutes.  When the potatoes and turnips were ready, I mashed (adding my butter and seasoning well) and set aside for later.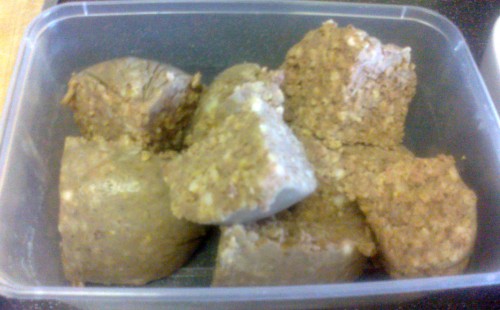 I cut my haggis down the middle, removed the outer casing, then cut into smaller chunks before placing in a microwaveable dish.  I microwaved the haggis for 5 minutes (on the high setting), then bashed down with a fork, so it looked like this: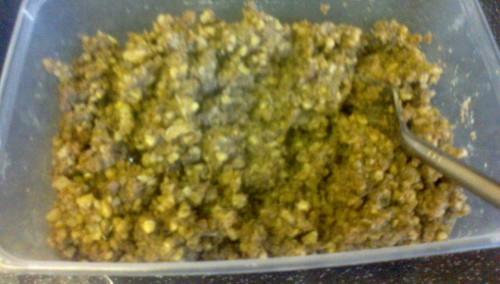 I stirred this into my mince mixture, then poured the lot into my ovenproof dish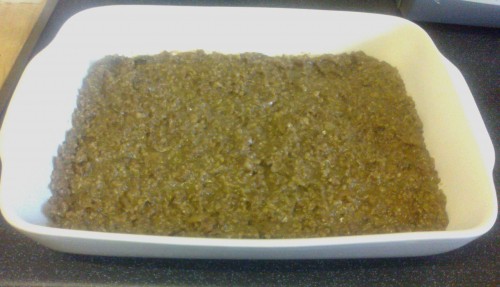 I then topped with my potato & turnip mixture, and used my fork to flatten it out and make a nice lined pattern through it.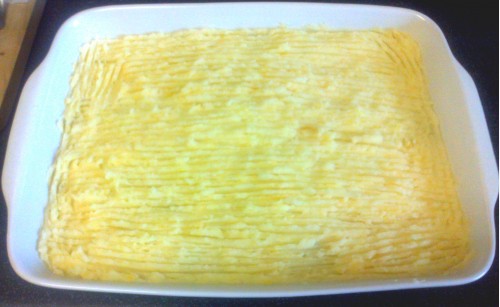 This was baked in at 180 degrees for 30 minutes.  If you find the top burning too quickly, cover it with foil.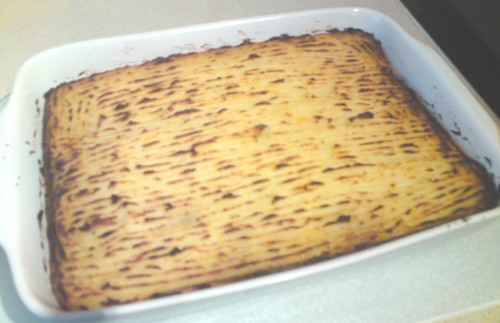 This is a great twist on your average cottage pie, and a brilliant way to introduce haggis to someone who is maybe a bit feart to try it!
Next time, I'm going to use black pudding instead of haggis.  I think it will be so flavoursome!  Perhaps with a clapshot topping too.  I may as well wear a Kilt when eating it, then recite some Burns poems on the top of a hill afterwards.  Anyone want to serenade me with some bagpipes?
Enjoy 😀 x
P.S – If you haven't noticed yet, I've added an A-Z page on the site, for your drooling pleasure.  I've been making good use of it already, going back to some tried and tested recipes!
P.P.S – Next Wednesday, I shall be posting about the birthday cake I made for Colin.  Yummy in the end, but a traumatic journey for a non-baker like me!