Hello all! Hope you're well, and all set for an indulgent, foody, festive period.
I was lucky enough to be invited to a Bloggers Event in Iberica recently, a new trendy Spanish restaurant, based in the heart of Glasgow City Centre. When I received the invite, I squealed out loud! I LOVE tapas, Spanish food, and everything Spanish, so I was very excited to find out what the newest Spanish restaurant in town had to offer.
Upon arrival, we were welcomed with a glass of cava, and proceeded to schmooze around the restaurant with Janice from the PR Firm, and some of our fellow Bloggers.
The restaurant itself is ambient, and somewhat decadent, with lots of low lighting and dark wood, which creates a cozy, yet indulgent atmosphere. The restaurant was designed by world renowned designer Lazaro Rosa Violan. I'd like to highlight that the bathrooms are fantastic (no pictures unfortunately)! They remind me of a bathroom you may have seen in an old Spanish Hotel circa 1920, they even contain an old fashioned chain flush. Individual cotton hand towels, and molton brown handwash/handcream carry on the decadent theme.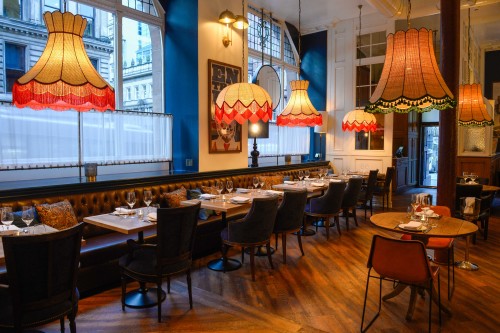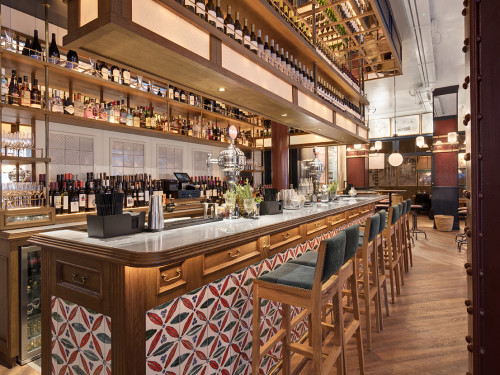 After nattering with our fellow bloggers, we were introduced to our Chef for the evening, Cesar Garcia, who took us on us a personal tour of the restaurant. I was delighted to find Iberica have their very own deli counter, serving authentic Spanish hams, a range of cheeses, and breads, to takeaway.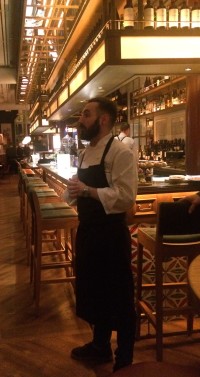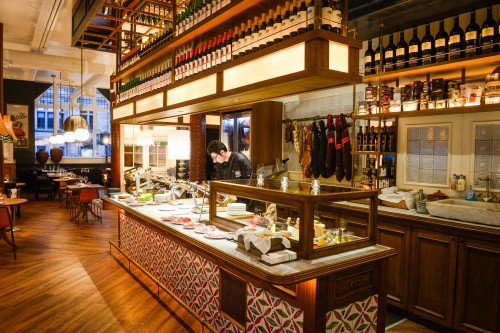 After our tour, we were treated to some pre-dinner nibbles, including a trio of Hams, ranging from Southern to Northern Spain, Mussels in batter (which I didn't actually realise was a mussel until I very nearly ate it whole; Chef Cesar shrieking "NO" stopped me in my tracks, and I was kindly handed a spoon to scoop the mussel out – crisis/broken teeth averted), Chorizo dough balls, and toasted bread with peppers, to name but a few.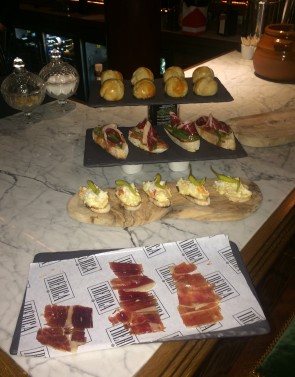 Following our nibbles, we were guided into the very pretty, private dining room (which can be hired for a number of functions), and introduced to Iberica Bar Manager, Lucas. Throughout the evening, Lucas talked us through the wines being served, each of which had been selected to compliment the dishes:
White wine: Pazo de Lusco. Albariño. D.O. Rias Baixas – Very light, refreshing, and far too easy to drink.
Red wine: Viña Santa Marina Crianza. Cabernet, Sauvignon & Syrah. VT de Extremadura – Soft and a little fruity, delish.
Dessert wine: Casta Diva – Complimented each of the desserts perfectly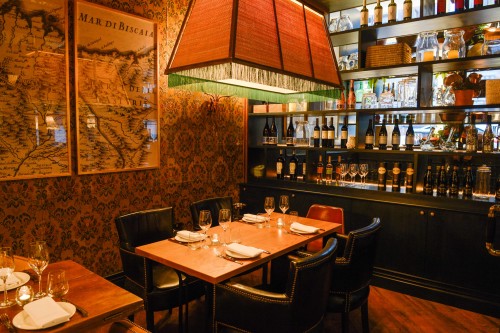 As we sipped away on the first wine of the evening (Pazo de Lusco), we browsed the menu, and collectively gasped at the amazing feast that lay ahead of us, which Chef Cesar talked us through:
SO.MUCH.FOOD! I was ready to stuff my face with all of the delightful dishes. Overall, the menu offered a great mix of food. I've highlighted some of my personal favourites from the evening below:
Green Asparagus toast with manchego, onion confit in truffle oil (V) – perfect bite size treats, which packed a flavoursome punch: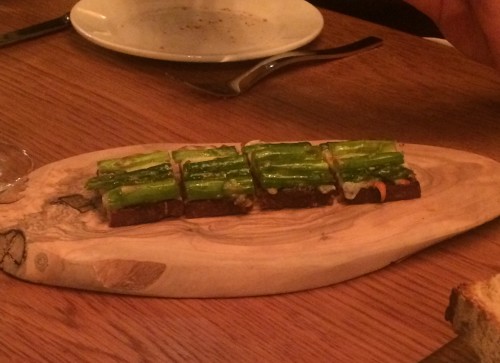 Sweet aubergine confit-style with honey & pinenuts (V) – I'm not usually a fan of honey dishes, so I was pleasantly surprised that the flavours actually worked very well together: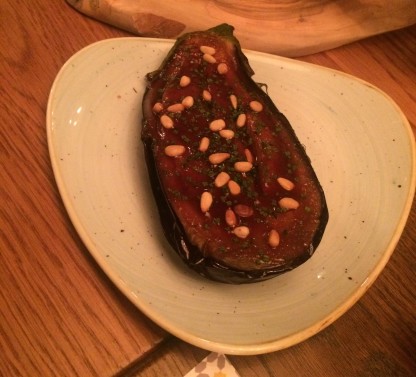 Beef cheek carpaccio, cooked and finely sliced with truffle potato puree, sweet potato crisps and tartare sauce  – I had to refrain from tipping the plate and scraping all of this into my mouth, so moreish: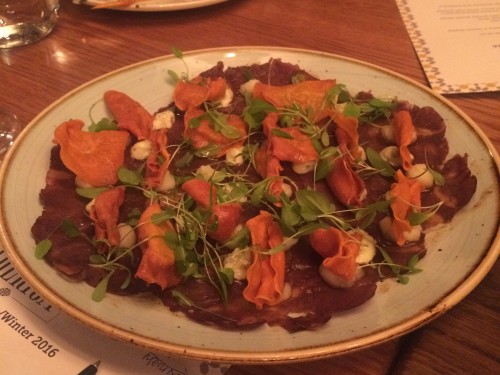 Fried chorizo lollipops served with Pear alioli – Scrumptious, and super fun. The batter compliments the chorizo very well.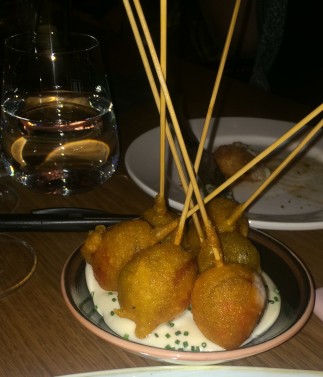 Octopus a la gallega – Galician style octopus with potatoes and pimenton de la vera – I'll admit, the octopus tentacles freaked me out a little, but my goodness they were tasty! Stewart demolished most of ours though, and some of the others, who were a little put off by the tentacles: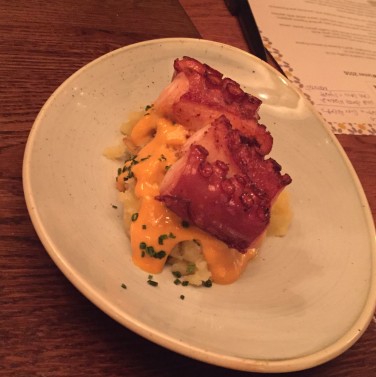 Oxtail sandwich with tartare sauce and potato cream – Hands down my favourite dish of the evening, consistent mmms, slurps and good gods, all round. I was surprised at how much I enjoyed this, as I've never fancied Oxtail: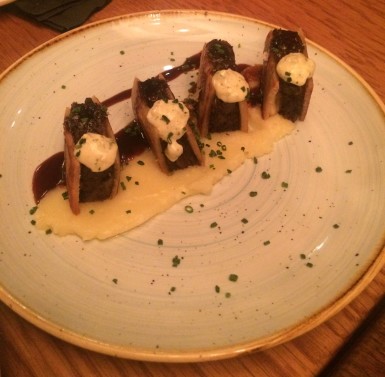 Pluma, iberico pork loin (from the charcoal Josper oven) – Perfectly pink, and very tender, yum: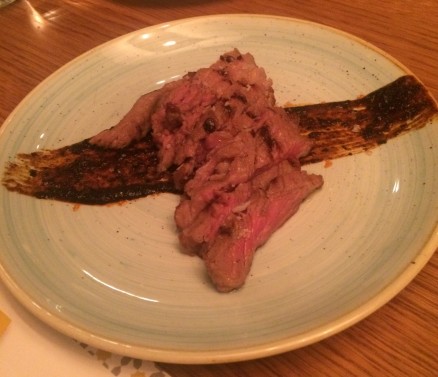 Botillo, a speciality from el Bierzo – Chopped and marinated cuts of pork, lightly smoked before cooking – Iberica's version of Haggis! – We didn't focus too much on why this might be compared to haggis.. but it was most enjoyable, with a rather unusual combination of flavours: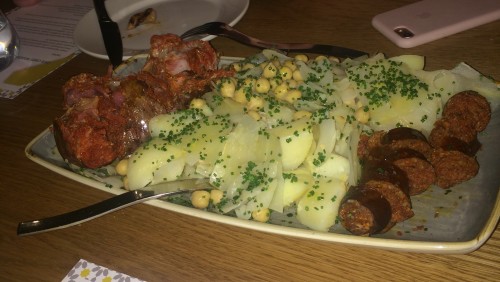 Churos – Sigh, who doesn't love churos? If I wasn't in public, I'd have licked the bowl of hot chocolate sauce clean.  The churros were so light, I could have eaten dozens more, but alas the menu finally got the best of me. I slowly slid down my chair, clutching my food baby belly, and rejoiced in the fabulous food and wine I'd consumed.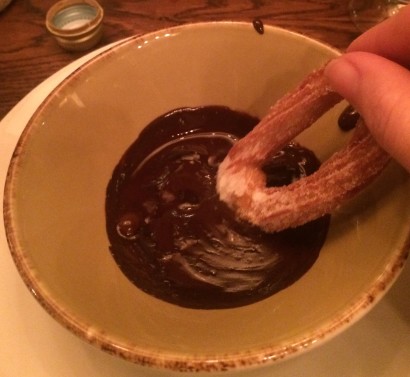 After dessert, suitably stuffed, with the evening winding down, Stewart and I got the chance to chat with Chef Cesar over some dessert wine (yes more wine, – don't judge, it was too tasty to resist). It was great getting to know Cesar a little more, and finding out what inspired him to become a Chef, and how he'd progressed throughout his career. He is very humble, given his talent.
Overall, Iberica provided a fantastic evening. Amazing, authentic Spanish food, delicious wine, and a great atmosphere, what more could you want. If you are a lover of Spanish food, or even if you're not, go and give Iberica a try, you will not be disappointed. I have already booked to return to Iberica on the 17th December, and I cannot wait!
Muchas gracias Chef Cesar, and Iberica!