Stewart and I were looking for somewhere new to try, for some scran on Saturday night, and Stewart suggested Khubla Khans, following a recommendation from one of his friends.  So we had a little look at the menu online and, to be honest, I was slightly freaked at the thought of zebra and llama and the selection of cute loveable animals, however, we decided to give it a go, and by god were we glad we did!
Upon arrival, we were greeted by a very friendly waitress, who promptly seated us and asked if we would like to order some drinks.  One (large) shiraz, and one bottle of Singha beer ordered, it was time to once again peruse the menu.  Slightly scared at the thought of kangaroo haggis, and asian fish balls, I was tempted to go for the vegetable spring rolls like a big boring blouse, but I decided to be brave and try something outside my comfort zone, so I ordered wild boar dumplings, and Stewart ordered zebra skewers.
I was not at all prepared for just how tasty the wild boar dumplings would be, it was an almost embarrassing scene, very loud mmming, rolling eyeballs, "these are SO GOOD" screwed up faces; they were SO flavoursome, and just utterly divine.  Stewart pinched a bite and his exact words were "this is the tastiest thing I've ever eaten".  Quite the statement!  Stewart was just as complimentary about the zebra, stating it was very tender and that even the salad was delicious.  I decided to try a bit of the zebra (those who know me will probably gasp reading this), and I heartily agreed, it was super tasty and fell off the skewer with ease.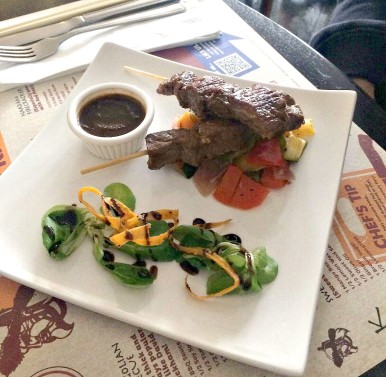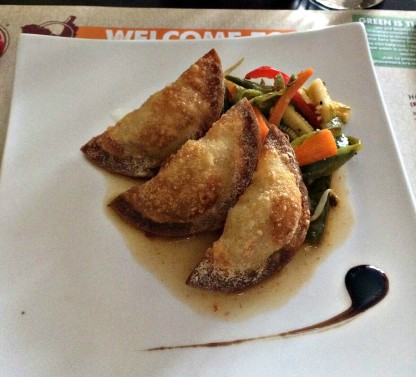 It was time for the "main".  Excited, we headed for the buffet area towards the back of the restaurant – one plate, and fill to your hearts desire.  Stewart and I thoroughly mortified ourselves by asking each other "why is everything cold?", "why does everything look raw?"… to then find out that if we had simply turned around, we would see the large area where the chef cooks your food for you.  A night of food poisoning swiftly avoided, we handed our plates to the chef and headed back to our table.  We ordered some salt and chilli chips whilst we were waiting and, as expected, they were spicy, delish and excellently cooked.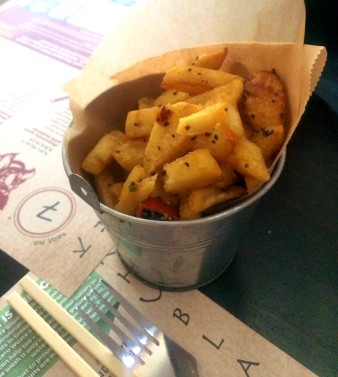 I had a bit of an erratic selection – egg noodles, beansprouts, onions, peppers, chicken, buffalo, beef, zebra, squid, wild boar, and I chose thai sauce, garlic, ginger, red thai paste, black pepper and salt to accompany.   Stewart chose noodles, beansprouts, rabbit, llama, buffalo, kangaroo, wild boar, beef, chicken, and a tandoori sauce.   There are actual recipes on the place mats on the tables you can follow, if you don't want to make up your own concoction like we did.  As we awaited our feast, I ordered another (large) Shiraz, and Stewart ordered a pint of Ceaser Augustus beer, which he said was delicious.  Our hot plates were returned to us, and more very loud mmm-ing ensued.  I was very pleased to discover all the flavours worked very well together.  Stewart agreed his tandoori sauce was a good choice.   The meats were so tender and succulent, even the chicken was perfectly cooked.  Stewart said all the meats he tried were also cooked to perfection, and were ridiculously tasty.  We thought we hadn't filled our plates enough, as they looked deceptively small – we were wrong, and struggled (but managed) to finish.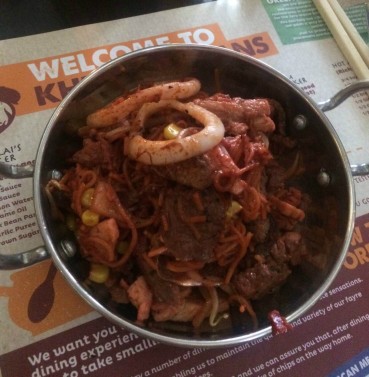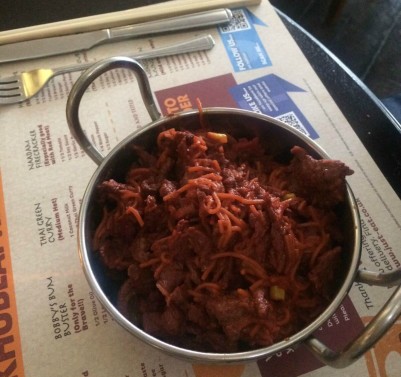 Our plates were taken away and we sat, totally stuffed, talking about how this could be our new favourite restaurant.  And… just when we couldn't be any more impressed… we were each served with a shot of mongolian vodka to try.  Without any apprehension, the shots were taken, and once the post shot shuddering subsided, we agreed it was actually a really nice smooth vodka! As we relaxed and agreed we couldn't POSSIBLY eat another thing, the waitress asked if we would like to see the dessert menu.  Being the sweet tooth fiend that I am, I couldn't say no.   I ordered dark chocolate mousse, and Stewart ordered rhubarb & apple crumble.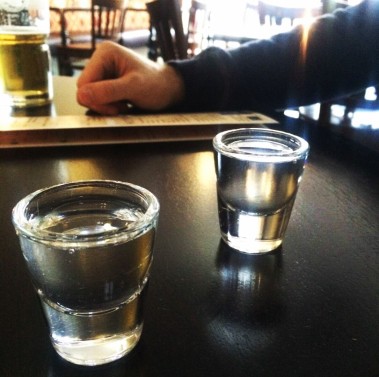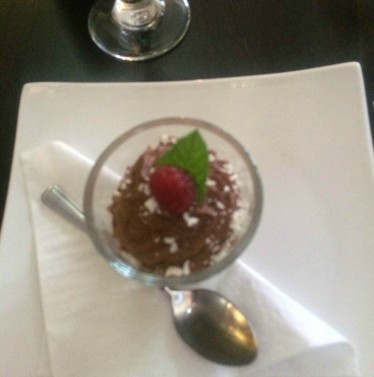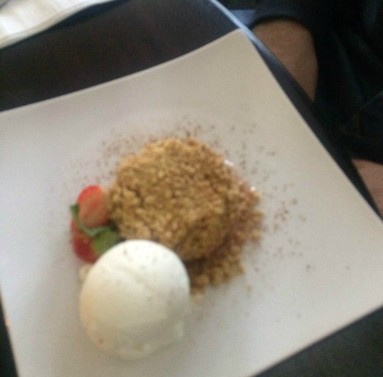 The mousse was heavenly, but just a little too sweet after a few spoonfuls.  I still managed to finish it, though.  Stewart said his rhubarb and apple crumble was sublime and just the right temperature, and that the vanilla ice cream was to die for.
We were officially stuffed, and requested the bill.  All of the above plus 3 large wines, 3 beers, for £62 including a mandatory 7.5% tip, which I think is really fair.  We ordered from the pre theatre menu (3 courses for £14.95).  I wouldn't hesitate to recommend this restaurant to anyone, and I certainly cannot wait to go back.  The service received was outstanding, and Khubla Khans should be proud to have such accommodating, friendly staff.