Last month, we were lucky enough to be invited to a Laura Ashley Crafts event, at the delightful Butterfly and the Pig Tearooms on Bath Street. Lured by the promise of cake and tea in vintage teacups, we were powerless to resist!
This wasn't our first soirée with a Crafty Hen workshop at these here tearooms. Some of you may remember our glorious crafternoon back in March. There's just something about cake, tea, and crafting on a cold Sunday afternoon, that is just so pleasant!

We arrived to find lots of other Glasgow bloggers in attendance, including Dusty Pearle, A Venturing Girl, and Oranges and Apples. Once we were seated and nestled, dainty china cup in hand, we were given our first craft of the day: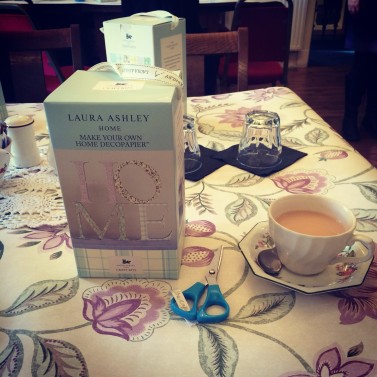 We eagerly unboxed, excited to recreate the beautifully designed letters displayed on the front of the box. There were so many patterns and colours to choose from! I'll tell you this, though… it's much harder than it looks. The paper, whilst beautiful, is extremely delicate. Add glue to the mix and it makes for a somewhat soggy encounter.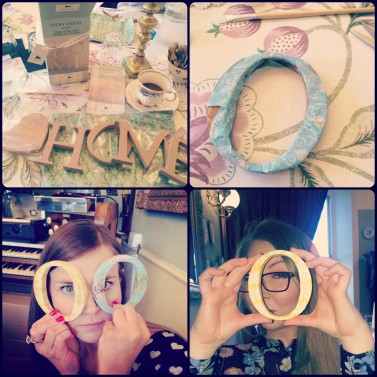 My attempts to mass-cover the letter proved difficult, as the wet paper kept tearing. Cutting it into thin strips and wrapping around the O worked slightly better. Irene sailed through hers, and managed to create a respectable looking effort by the time cake-break was announced!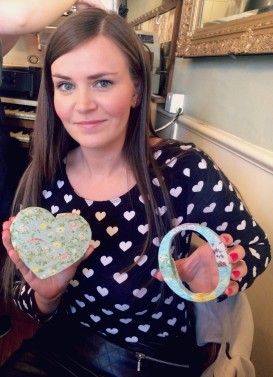 Speaking of cake… this was the moment we'd all been waiting for (or at least, Irene & I had!). The lovely cakey goodness was upon us. Picking just one cake was slightly traumatic, but we got there in the end. #FirstWorldProblems
Irene opted for the Pecan & Maple cake, and I chose the Lemon & Polenta cake.
Can I just say? If you haven't been to the Tearooms and tried their range of cakes… stop what you're doing right now. Yes. Stop reading this post. Get your shoes on and go treat yourself to a cake right this minute. I'll wait for you to come back.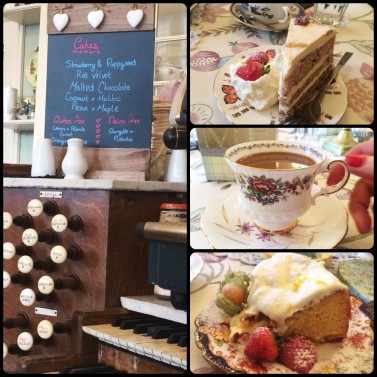 I adore these beautiful teacups… any recommendations on where best to find ones like this?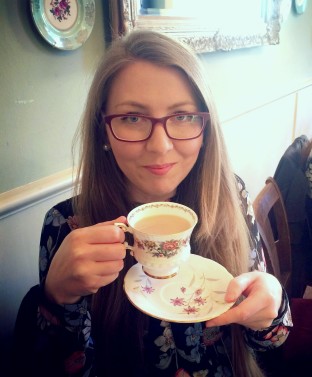 Tea & cake consumed with lllarrrrs heard across the room, it was time for our next crafty adventure…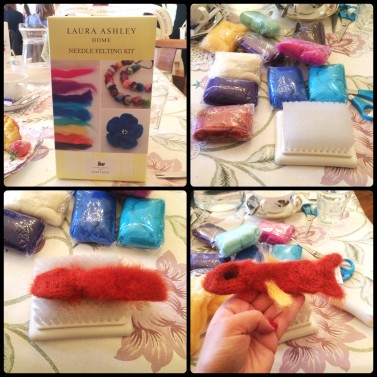 We were given a thorough demonstration on how to use the needle felting kit. It was very simple:
Place the wool of your choice on the felt brush.
Push the needle applicator down on it, manipulating it into the shape you want.
Don't stab yourself with the needles. Repeatedly.
We managed to get the hang of the first two, at least!
As you can see from the picture, Irene's sausage dog turned into a goldfish – a retrospective homage to our 22-year old goldfish, Gazza. She also made a little sunshine, which took on some Grinch-like qualities…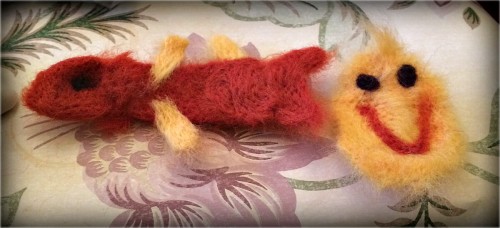 I felt more at home with this craft activity, and tried to make a pug. It turned into a scarf-wearing bear, but I'm still chuffed! Here's a pic of said bear (and us looking pure delighted with him), found on the Laura Ashley blog!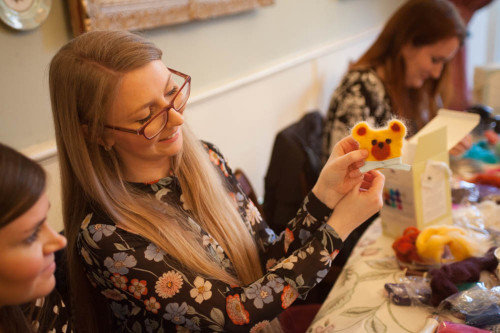 Needless to say, all three felt creations are hanging proudly on the Xmas Tree, at the parental nest!
We had a fantastic time at the Laura Ashley Crafts event, and would like to thank Joe Blogs Blogger Network for inviting us.
If you have a crafty loved one, the Decoupapier set or Needle Felt kit would make fabulous Christmas gifts! You can find all sorts of crafty gifts on the Laura Ashley website here. I especially love the 'Make your own Westie Dog Doorstop' kit – swoon!
More details about Laura Ashley:
Laura Ashley is a Welsh textile design company famous for their Victorian style print fabrics. The first shop under the Laura Ashley name opened in Pelham Street, South Kensington in 1968. They expanded into fashion from 1966 and home furnishings from the early 80's. They had also launched a children's range and furniture range in the early 90's. Laura Ashley currently have over 400 stores worldwide including the Far East, Australia & South America as well as increasing numbers of licensing projects for products including carpets, eyewear and tiles. Laura Ashley has been at the fore front of design & clothing for over 60 years.
Laura Ashley have two hotels in the UK, The Manor Hotel which is based in Elstree and The Belsfield in Bowness-on- Windermere.
Visit their website here.