Well hellooooooo there! It's been a while eh? I'm now officially a married lady, and hence the blog has taken a bit of a back seat, as we've been busy planning the big day. But, back to the foody adventures now

We were recently invited to sample the menu at the refurbished Recess restaurant, located within the Hilton Garden Inn Glasgow. The location of the hotel/restaurant is ideal, just a few mins walks from the hip and happening Finnieston, across the road from the SSE Hydro, SECC and Clyde Auditorium, and a 10 min walk from Glasgow City Centre.
We were greeted with a very warm welcome, and served a Belstar prosecco, which Stewart said was delicious, and a pineapple and cranberry mocktail for me. We were then introduced to our lovely host for the evening, Rachel Macfarlane, and so ensued our evening.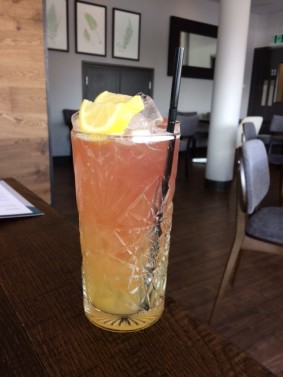 The restaurant itself is a lovely space. Tastefully decorated, it has a relaxed vibe, and a simply fantastic view of the River Clyde from both indoors, and the outdoor heated patio area.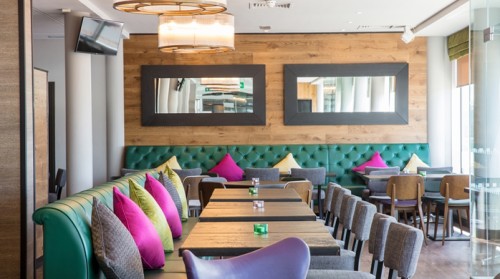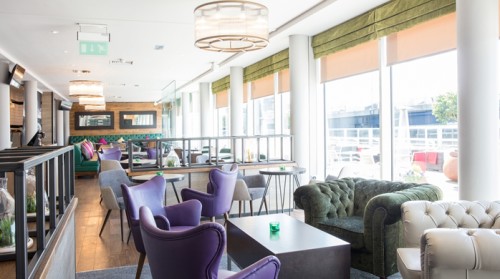 Suitably acquainted with our surroundings and fellow guests, it was now time to eat, hooray! After devouring the menu, we were informed we would sample the majority of the nibbles/sharers from the menu, and could select our own choice of main. Nibbles/Sharers were as follows:
Calamari – a staple starter for me, and it didn't disappoint. Lovely fluffy batter, and not too chewy.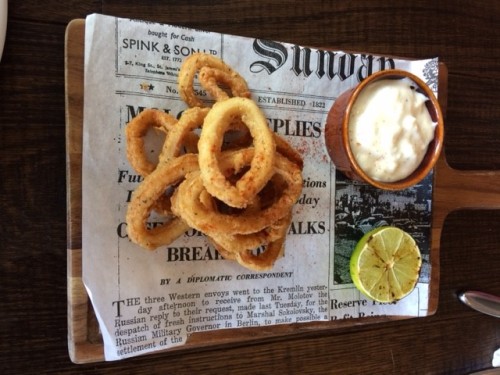 Crackling with apple sauce – They were very flavoursome, and Stewart really enjoyed them, but I found them a little hard to chew.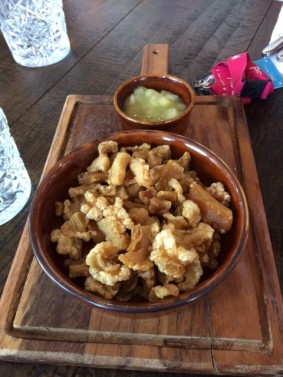 Artisan Breads with olive oil and balsamic – A mix of soft and crusty bread, slurp.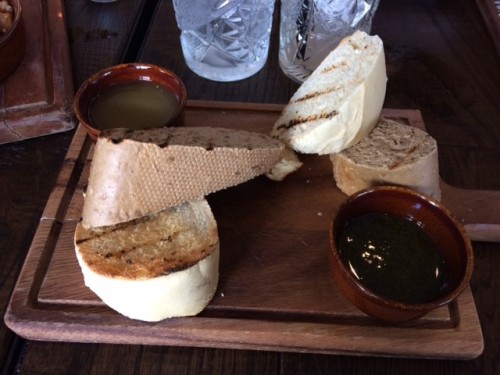 Mixed olives and bread – who doesn't love an olive (besides Catherine, who thinks they taste like "wet skin"). All that was missing was the gin martini.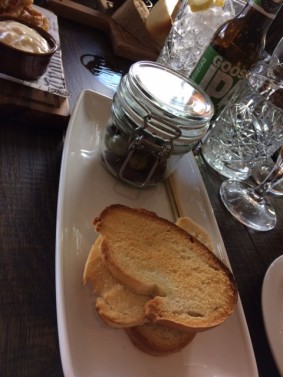 Chicken Liver parfait, with apple & cider chutney, apple & thyme butter, olive oil & sea salt toast – one of my faves. The texture of the Pate was perfect, firm but not hard, and the chutney complimented it perfectly.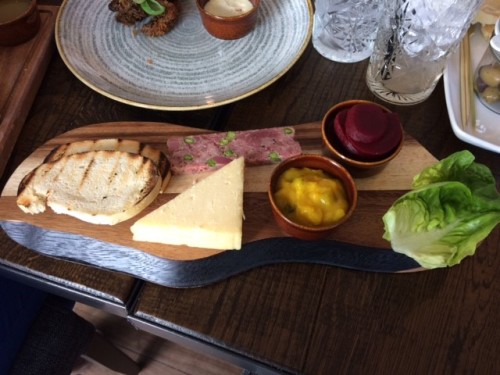 Portobello Fries – These were amazing! An excellent concoction, and a must order.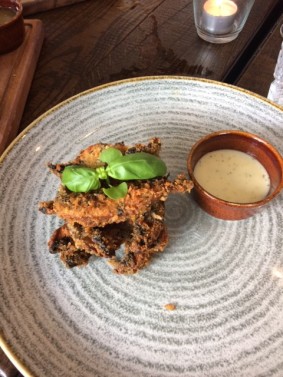 Scotch Egg – Unfortunately I ate this so quickly I omitted to take a picture (image below is a Recess stock pic). But MY GOD it was amazing. I'm slightly ashamed to admit I had never tried a scotch egg before, having previously been put off by the somewhat unappetising ones you find in supermarkets etc, but these scotch eggs, sigh. They were light, flavoursome and honestly one of the nicest things I've ever tasted, which is a bold statement I know. I'd go back for the Scotch eggs alone!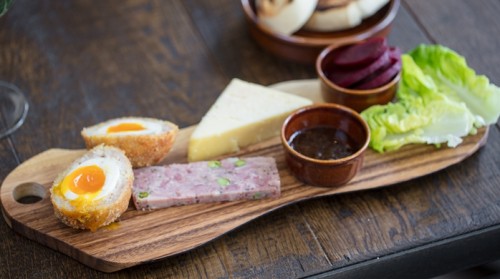 Suitably stuffed from the sharers, it was time for our main. I had rump fillet, skin on chips, and chimichurri sauce. The steak was cooked to perfection. The chimichurri sauce was a new one for me, I'd never even heard of it! It was very moreish, all fries were swiftly absorbed in the sauce, and inhaled.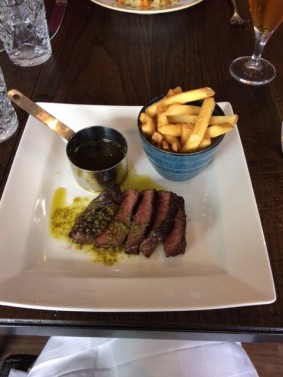 It was now time for my favourite part of any meal – dessert. We were treated to not one, not two, but THREE desserts; Eton mess (meringue, berries, cream, in a quaint little jar), Sticky Toffee pudding with vanilla ice cream, and a Treacle tart. The sticky toffee pudding was my favourite hands down. The treacle tart was a close second. Stewart loved the Eton mess, however it was just a little too sweet for me.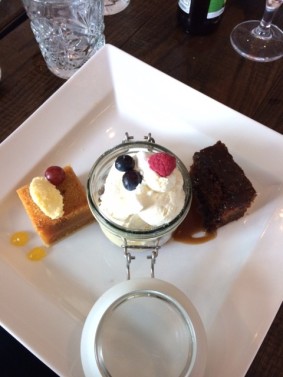 Overall it was a fantastic evening, and it was nice getting to know some of the Staff from the Hilton team, who were very friendly and hospitable. The Head Chef also came out and talked us through each of the dishes, which was a real treat.
Recess is truly a hidden gem in a fantastic location. Their prices are reasonable, and there is a varied selection of food and drinks to suit even the fussiest of folk. Definitely a great find, and one not to be missed when in Glasgow. Till next time!