Hiya

Welcome to my lovely new site!  I tried to post this yesterday, but there were teething problems (aka my technical incompetence!).  Alas… here is the Steak & Guinness Pie I was dreaming about last week!
I looked up various recipes for inspiration and took what I liked from each of them; I wanted one that was slow cooker friendly, using simple, low cost ingredients.   
Some people are feart of leaving their slow cooker on whilst unconscious or out of the house.  I admit, the first time I left my slow cooker unattended to go to work, I was a wee bit worried.  According to these safety tips, however, there is no need to worry, as the wattage is very low; similar to a lightbulb.  Don't tell me you haven't slept with the light on after watching a scary movie! 😉
This lovely pie filling cooked sloooooowly overnight; the smell of the flat in the morning was amazing!  I prefer overnight slow-cooking, to starting it in the morning.  Firstly, because I like to brown my meat, and don't fancy doing that at 6am before work!  And secondly, if you switch it off in the morning, the flavours develop all day.  Mmmmmm!
Here is what I did: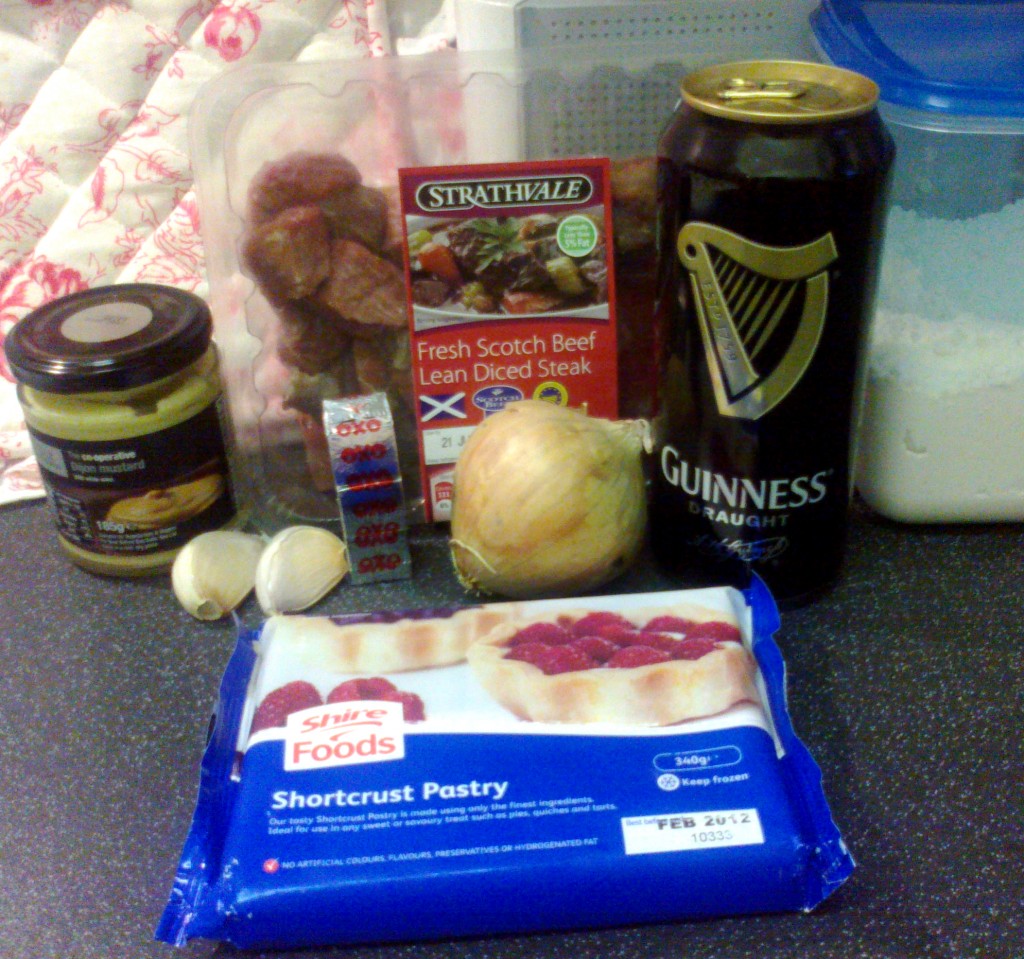 Ingredients (Serves 4)
500g lean diced steak
2 tbsp plain flour
1 onion, diced
1 tbsp dijon mustard
2 cloves garlic, minced
3 Oxo cubes, dissolved into 150ml hot water
300ml Guinness (or any ale, if you please)
340g ready made shortcrust pastry
1 egg, beaten, for glazing
First, I put flour, some salt and pepper into a bag, popped the beef in and mixed it all thoroughly.  I do this because I heard it helps lock in the juices when browning the meat.  Here is a more fancy, scientific explanation.  Yeah.  What they said.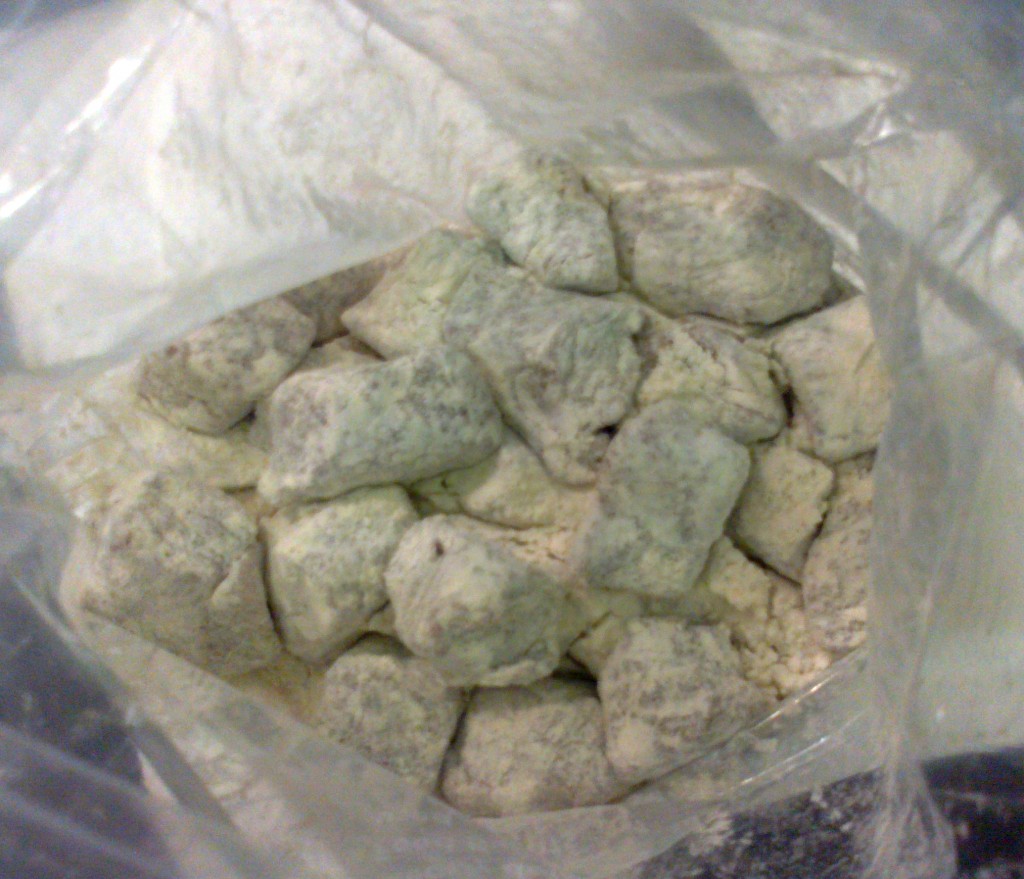 I then fried the meat until browned (a few minutes, you may need to do this in batches), then popped it into my slow cooker (which I switched on to the "LOW" setting).  I fried the onions and garlic for a few minutes, and they joined the beef.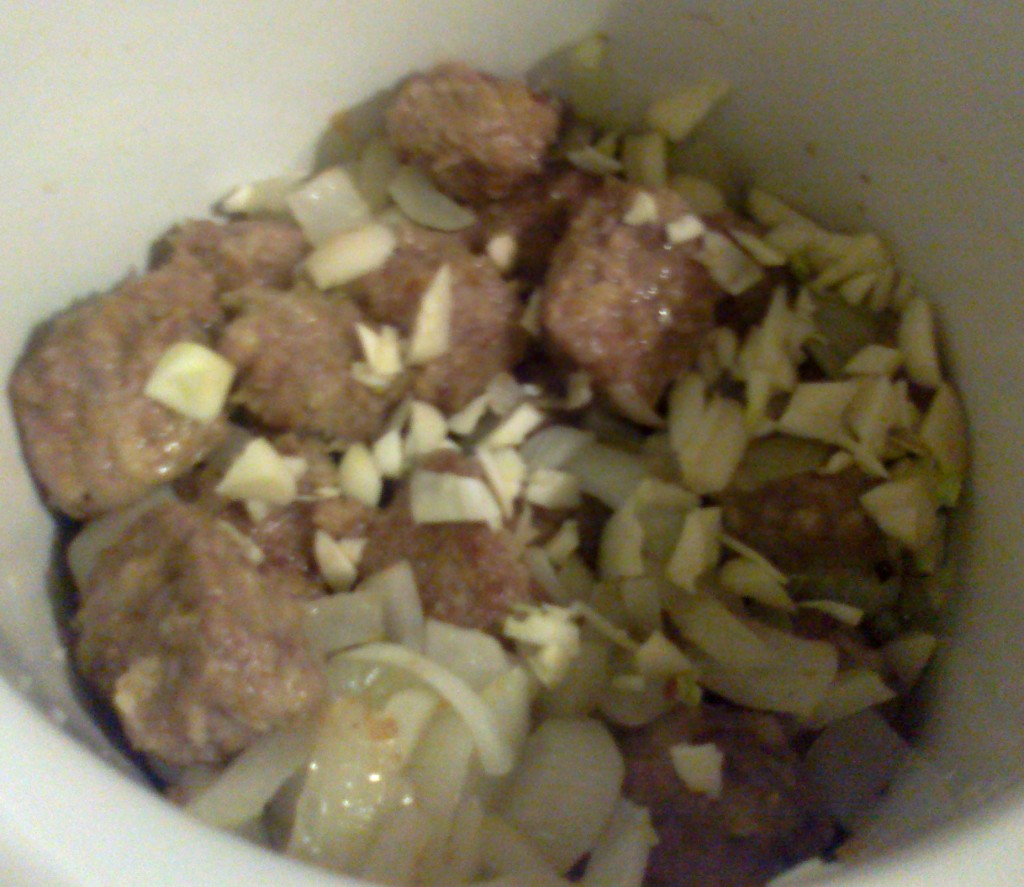 In a jug, I mixed the mustard with the Oxo stock, then topped up with my Guinness.  I poured all the liquid into the slow cooker and gave it a good stir.
I left this cooking on LOW for 7 hours, before adding a tin of carrots and some frozen peas (yes, I like convenience, an whit?), and let it cook for a further half an hour (whilst I dashed about, trying to get ready for work.  Not a nice sight).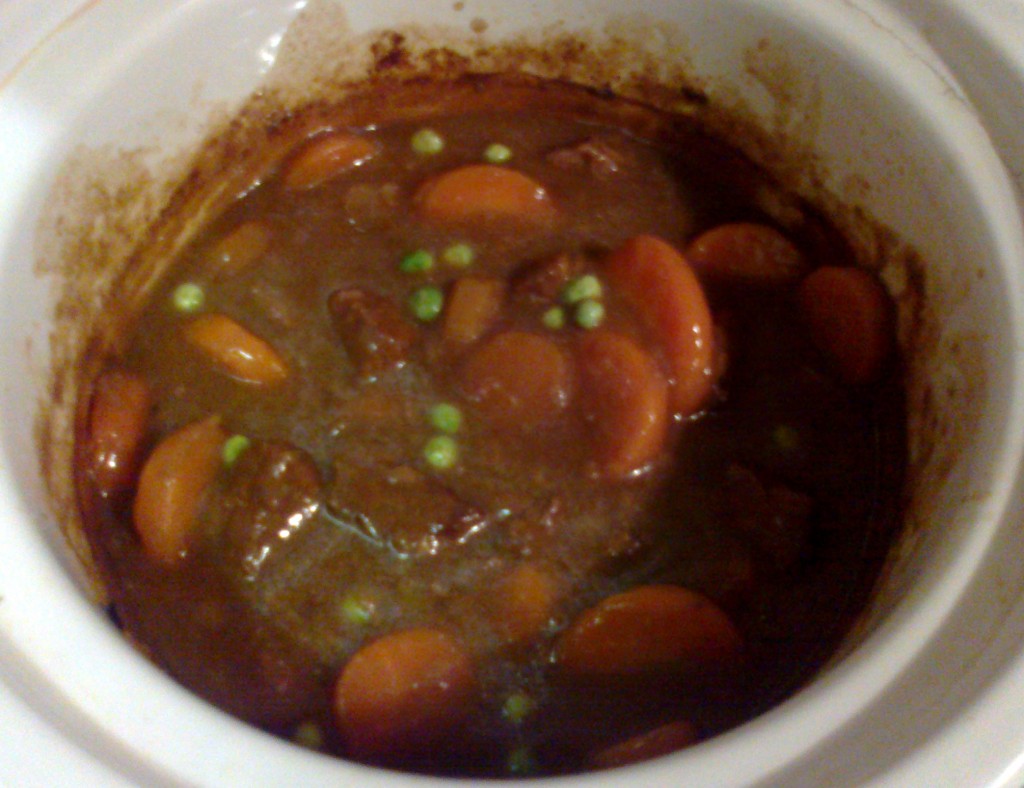 The liquid became all reduced and gorgeous and flavoursome (drooool).
When I got home from work that day, I got my pastry out.
Even though I've used the same type of pastry on the same size of dish, I felt I was spreading it out a bit thin this time and could have done with a bit more!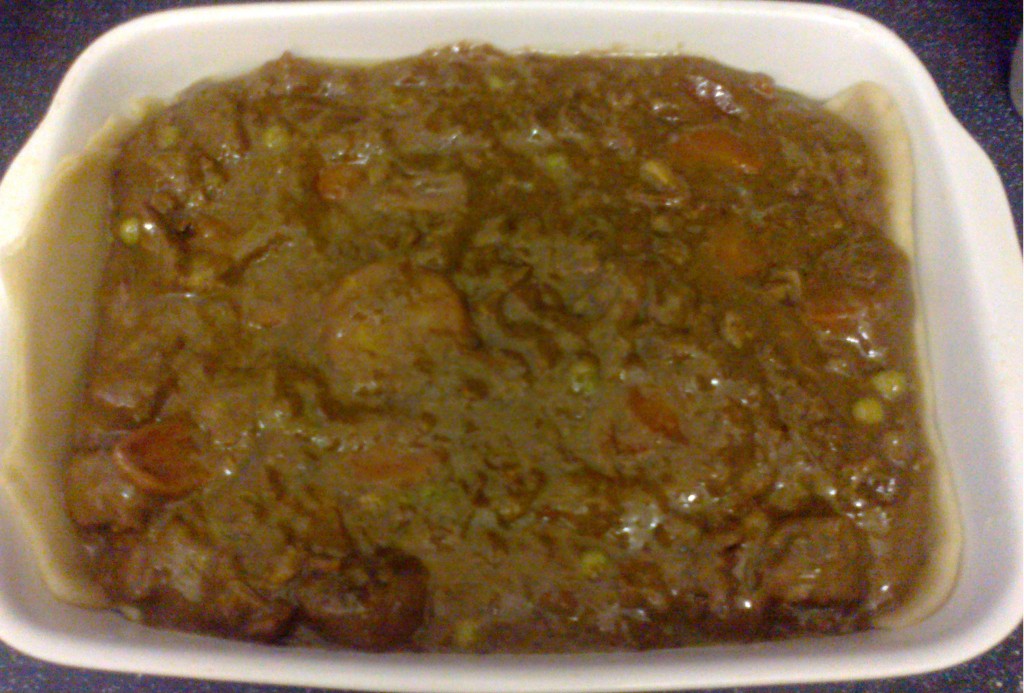 I brushed a bit of the beaten egg around the top of the dish, to help my top half of pastry stick to it.  I glazed the hell out of the top layer and made two cuts in the middle, to let the steam escape (ok, it was also to make some nostrils for my happy face).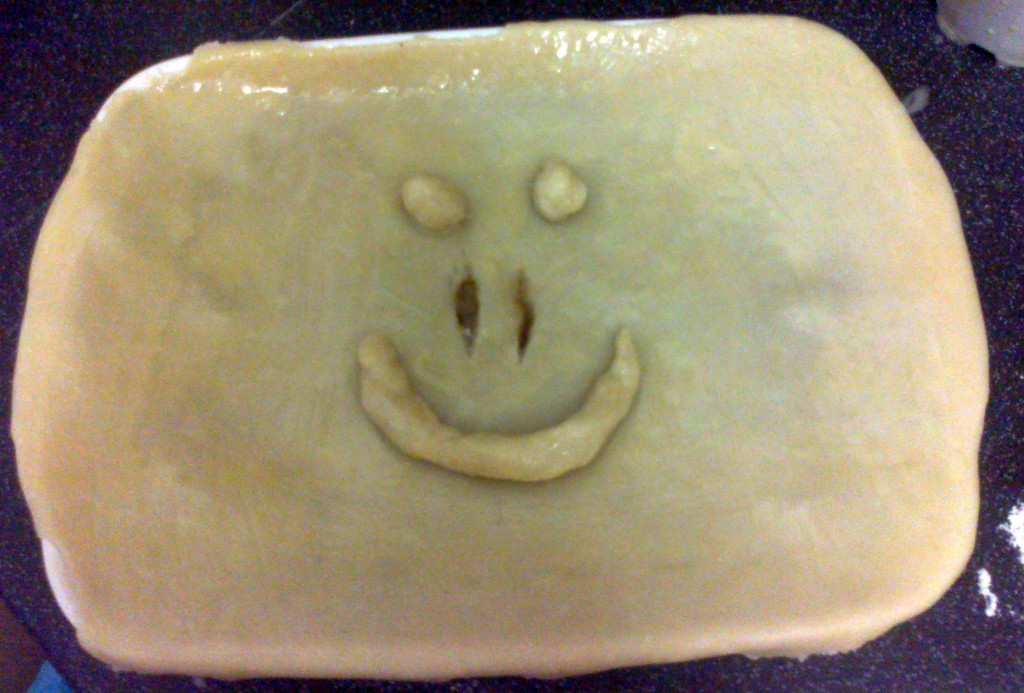 I popped this into the oven at 180 degrees for 40 minutes.  Voilaaaaaaaaaaaa!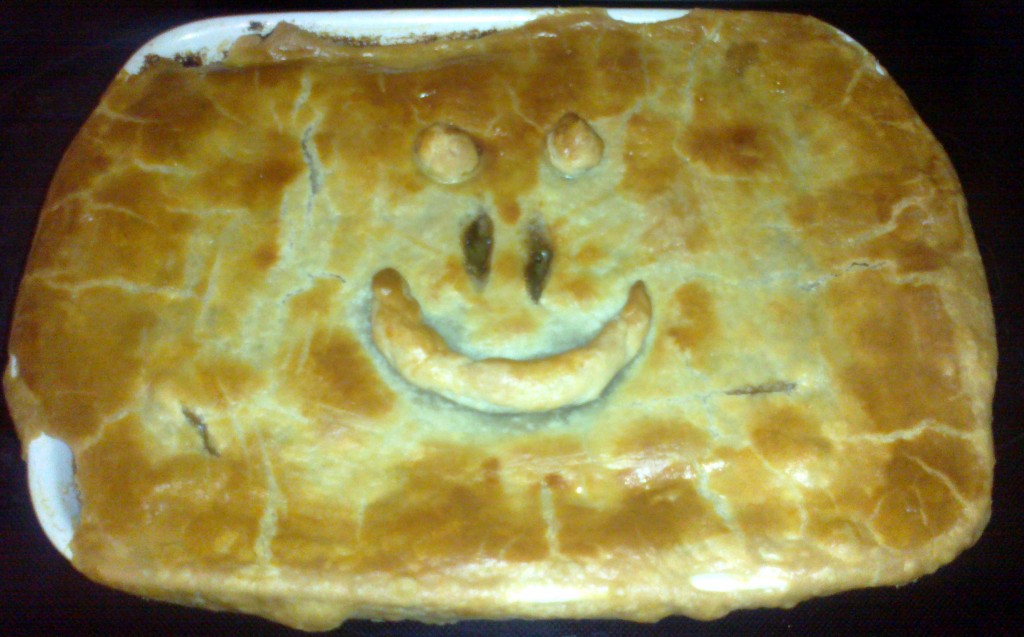 This was served up with creamy garlic potatoes and the honey mustard carrots saved over from my last recipe!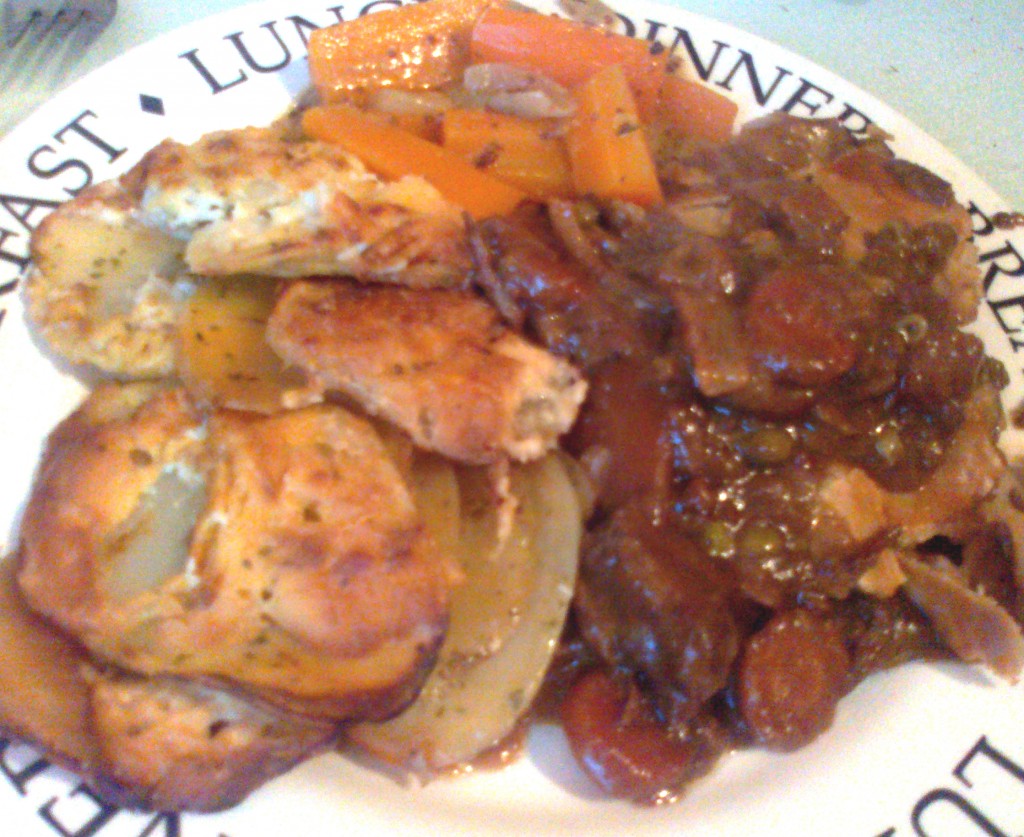 As with all my recipes (apart from the Sad Pie one), I would thoroughly recommend it 😉  If I had a bigger slow cooker, I'd double up the recipe and batch freeze into individual portions, for some lovely midweek dinners!
There is a bit of a slow cooker revolution going on in my office right now!  What's your fave slow cooker recipe?  I'd love to hear about/drool over them!
See you next week 😀 x