After a particularly carnivorous week, I was starting to crave something… vegetable-ish. *GASP*
As much as I love my steak, chicken, pork (oh no… I'm drooling now), there was just a gap in my hunger; one that meat couldn't fill!
Browsing through the BBC Good Food website, I came across this dish and liked the sound of it. Mushrooms give the illusion of meatiness, don't they? This made me optimistic! I know mushrooms aren't technically vegetables, but they do count towards your 5 a day!
After spotting a "Spinach & Mushroom Stroganoff" ready meal when shopping for ingredients, I was inspired to add spinach to this recipe. As much as I hate ready meals and their cheap cuts of crappy meat, they do have some good ideas. As a matter of fact, I've got a growing list of ready meals that I'd love to replicate one day.
I'm sure my version is much nicer than those of the salty, preservative-infested, frozen variety. So… close that freezer door and give this a try!

Although inspired by the BBC Good Food recipe, I've made quite a few changes; it'll likely be beyond recognition to their recipe!
But still… mines tastes lovely 😉
Here's what I did: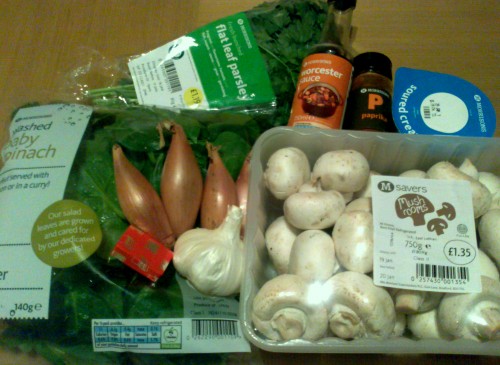 Ingredients (Serves 2)
400g mushrooms, sliced
4 shallots, diced
2 cloves garlic, minced
200ml beef stock (you can use vegetable if you want a completely veggie version)
150ml soured cream
2 x tsp paprika
2 x tsp Worcestershire sauce
A large handful of baby spinach
A small handful of parsley, chopped (optional)
I got all my veggies and parsley ready, as this dish takes next to no time to cook!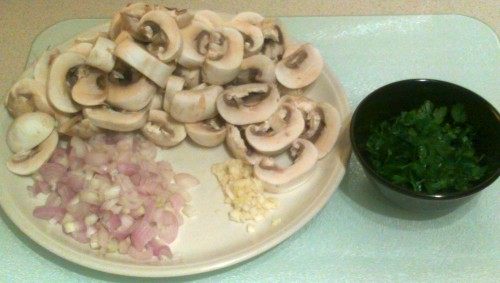 I fried the shallots in a little olive oil for 5mins until they softened, then added the garlic and paprika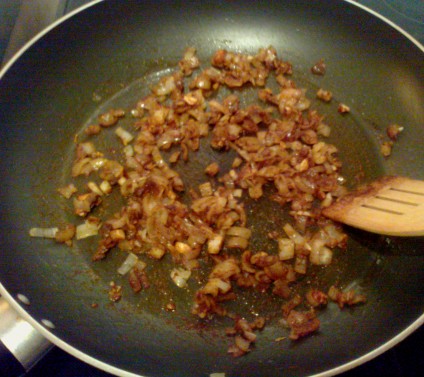 I added the mushrooms, sautéed for 5 minutes more, then added the stock and Worcestershire sauce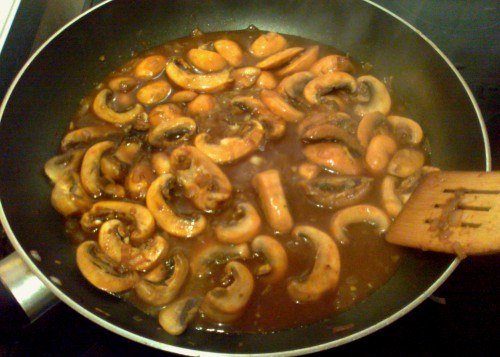 I simmered for a further 5mins, letting the liquid reduce slightly, then took it off the heat. I stirred in my soured cream and spinach and topped with parsley. The spinach will wilt with the heat of the dish.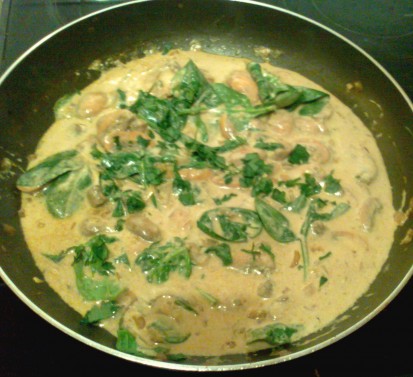 I served with some wild rice and a wee pitta bread.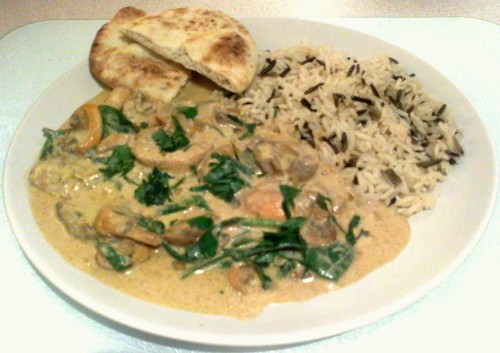 Not only was it super tasty, it was quick, cheap, nutritious and extremely easy to make!
The Worcestershire sauce and paprika give the dish a gorgeous flavour; I would imagine it to be too bland otherwise.
As gorgeous as it was, I'm looking forward to trying the beef stroganoff…
Enjoy 😀 x